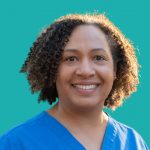 Becka, Chartered Physiotherapist
Becka qualified with a BSc (Hons) in Physiotherapy at the University of Hertfordshire in 2002 and has worked in London and Kent within the UK. She is a clinical specialist musculoskeletal and pelvic health physiotherapist, having completed additional studies in women's and men's health with the University of Bradford.
Becka is passionate about helping women who are experiencing pelvic pain, bladder, bowel and fertility issues. She is the Pelvic Obstetric and Gynaecological Physiotherapy (POGP) area representative for the South East of England, helping to organise networking and training for other pelvic health physiotherapists within this region.
She enjoys adopting a holistic approach when treating her patients, using her skills in manual therapy, Myofascial release, Scarwork, Pilates and acupuncture to help manage pain and dysfunction.
If you'd like a free consult, please take 20 minutes and fill out this form and we can determine if therapy would be a good fit for you.