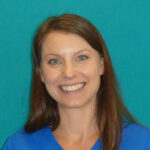 Dr. Kristen graduated from the University of St. Augustine for Health Sciences and successfully completed her manual therapy tract with high honors in 2014. She has continued her education by completing courses to effectively assess and treat pelvic floor pain and dysfunction through Herman & Wallace. She is currently certified in the Wurn Technique and Clear Passage Approach and is on track to becoming a certified visceral manipulation therapist through the Barral Institute.
Prior to joining the Clear Passage team in Gainesville, FL, she treated a variety of patient diagnoses in the outpatient orthopedic setting including perinatal issues, chronic pain, post-surgical cases, balance and vestibular disorders, sports injuries, work related injuries and neurological cases. Dr. Robles has a special interest in perinatal care and has found helping women conceive naturally to be such a blessing.
Dr. Kristen became a physical therapist because she believes in the body's innate ability to heal itself if given the proper attention and opportunity to do so. As a physical therapist, she feels great satisfaction being able to facilitate the healing process, empower patients to become more in-tune with their bodies, and educate them with self-management and preventative techniques to promote optimal movement and function.
If you'd like a free consult, please take 20 minutes and fill out this form and we can determine if therapy would be a good fit for you.