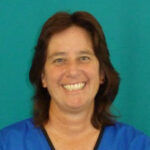 Michelle earned her bachelor's degree in Psychobiology from University of California, Riverside and then continued graduate work in biomechanics at San Diego State University. She graduated as a physical therapist in 1996 from the College of Osteopathic Medicine of the Pacific.
Michelle utilizes a variety of manual therapy approaches including visceral manipulation, mechanical link and cranio-sacral therapy to enhance her clinical results. For many years before becoming certified in the Wurn Technique and Clear Passage Approach, she specialized in treating chronic pain associated with the pelvic floor, spine and extremities.
Michelle finds great joy in working with Clear Passage patients, including those with chronic pain or facing life-threatening bowel obstructions and women struggling with infertility. She enjoys using her hands to help her patients overcome these conditions and achieve their goals.
Michelle co-directs the Clear Passage location in Metro San Diego with her husband, Neil, PT. They designed their own office building in 2001 as a peaceful, healing space with skylights, vaulted ceilings and private gardens off each treatment room.
If you'd like a free consult, please take 20 minutes and fill out this form and we can determine if therapy would be a good fit for you.