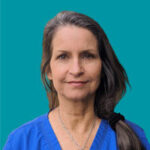 Suzette joins the Clear Passage headquarters clinic in Gainesville, Florida and is a valuable asset to our team of therapists. She received a BS in Psychology from the University of Florida in 1989. Suzette's lifelong interest in healing the human body led her to  massage school, after which be became proficient in several modalities including myofascial release, neuromuscular therapy and visceral manipulation. Suzette also received certification in Advanced Craniosacral Therapy from the Upledger Institute.
Suzette believes the Wurn Technique brings all these specialties together in an innovative way. As a skilled manual therapist for over 15 years, she was drawn to Clear Passage by the therapists' ability to help those suffering from disease and dysfunction. It's immensely rewarding when patients report improvement within the first day of treatment and continue to get relief from their symptoms and achieve healing they were not able to find elsewhere.
Suzette feels that her work with Clear Passage "is the most fulfilling and meaningful way to spend a day, helping people get back the quality of life they are seeking."
When she's not treating patients, Suzette enjoys spending time in the quiet nature parks around Gainesville, reading and writing poetry and songs.
If you'd like a free consult, please take 20 minutes and fill out this form and we can determine if therapy would be a good fit for you.