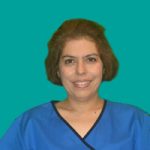 I graduated with a Bachelor of Science in Physical Therapy from Iran in 1998. I worked as a physical therapist for several years. I have always been fascinated by the nervous system and the science of movement control. Therefore, I returned to school and I was granted a Master of Science Degree in Neuroscience from University of Victoria, Canada in 2007. During this time, I authored studies in peer-reviewed neurophysiology journals' these are now housed at the US National Library of Medicine. In my lifetime quest for new knowledge, I completed the Doctor of Physical Therapy program from University of Montana in 2013.
In my 23-year career before finding Clear Passage, I worked with a wide variety of patient populations including orthopedic, neurologic, cardiothoracic, plastic and reconstruction surgery. I also worked in a variety of settings including inpatient, acute rehab, outpatient and home health. Throughout my career, I have worked with different age groups from pediatrics to adults and geriatrics.
In 2009, I had a work accident which caused severe pain. The few manual therapists who treated me helped tremendously to alleviate my pain when traditional therapies could not help me. Since that time, my passion has been manual therapy.
I took multiple courses in Craniosacral therapy from Upledger institute, then I studied Visceral and Neural Manipulation at the Barral Institute. I took courses in myofascial release with John Barnes and completed a residency program in Integrative System Model (ISM) with Diane Lee. Since the realm of manual therapy is very dynamic, I find that learning never stops. I am constantly inspired to take more courses, both to further my knowledge and to improve my skills to the finest precision possible with the sole goal of assisting the patients I serve.
Finding the work and the expertise taught to me at Clear Passage® Therapies has been a remarkable growth opportunity. This allows me to broaden both the depth and scope of my practice. With Clear Passage, I am allowed the opportunity to spend extended time working with each patient. Using the vast knowledge I have gained from my decades in school, continuing education courses and many years with patients, I find I now listen not only with my ears and brain, but with my hands and my heart. Thus, my patient and I can journey in concert to the specific goals that they set – and often beyond. When I can turn a patient's life around in just five days and help them achieve the goals that were previously unattainable in their lives, my life and theirs becomes incredibly fulfilling. I feel truly blessed to be a director here, and a vital part of our remarkable team.
As Director of the metropolitan Los Angeles Clear Passage clinic, I have the privilege of decreasing significant pain and improving function, every week. Due to my extensive background and my ability to listen deeply, I strive to help my patients to better understand their bodies and to show them how to prevent future issues.
When I am not treating patients or studying, I enjoy spending time with my niece and nephew. I am also a certified Heartfulness Meditation trainer. I practice meditation daily and conduct weekly community sessions to teach individuals about meditation and to help them reach their inner peace. Throughout my life, I have always enjoyed travelling the globe, immersing myself in other world cultures and traditions. I love being in nature, hiking local mountains and doing yoga.
If you'd like a free consult, please take 20 minutes and fill out this form and we can determine if therapy would be a good fit for you.