SIBO (small intestinal bacterial overgrowth) is a serious, often undiagnosed condition that affects thousands of people worldwide. Those with a history of endometriosis, IBS, Crohn's, food poisoning, other gastrointestinal disorders or abdominal surgery are at risk for developing SIBO. In this condition, bacteria that normally inhabit the large intestine (colon) are found in the small intestine where they grow freely, causing symptoms such as severe bloating, nausea, cramping, diarrhea or constipation.
Persistent SIBO can occur when internal scars called adhesions form after inflammation, infection, surgery or trauma. These adhesions can kink the bowel like a garden hose or narrow it like an hourglass. Because the body has no way of decreasing adhesions on its own, these internal scars remain in place and sometimes grow, creating a permanent straitjacket that slows or stops the movement of food through your body.
While medications can be effective killing off most SIBO, any surviving bacteria must be able to exit the intestine in a timely manner or SIBO can recur. When adhesions prevent bacteria from leaving the gastrointestinal (GI) system, any bacteria that survives medical treatment can proliferate again above the restricted area.  Thus, even with the best coaches, doctors and medications, SIBO and symptoms can return unless the adhesions are removed before or during a course of pharmaceutical or nutraceutical treatment.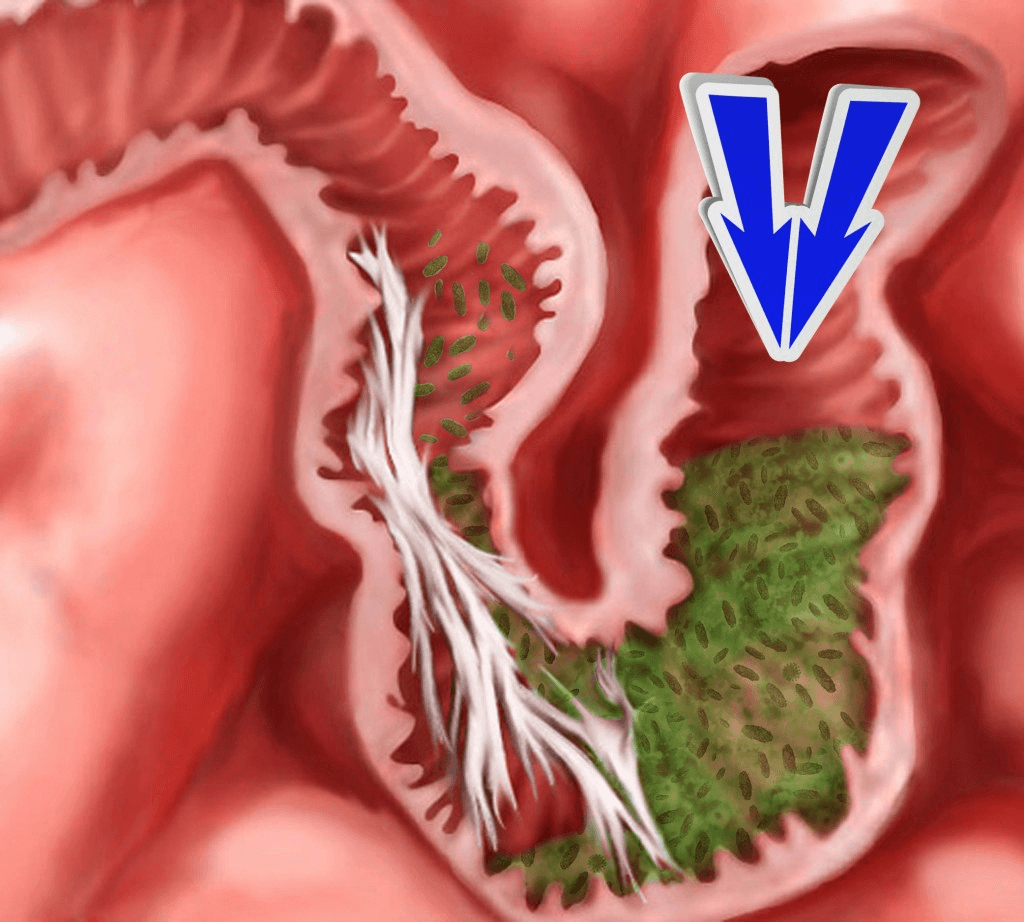 Adhesions and unresolved SIBO
Clear Passage®️ physical therapists are certified to clear adhesions affecting the intestines, and throughout the abdomen. Over a dozen citations and studies published in peer-reviewed medical journals show the safety and effectiveness of the non-surgical therapy for decreasing adhesions in abdominal and pelvic viscera.
The ability of this work can be vitally important for people with recurring or unresolved SIBO when adhesions prevent treated bacteria from exiting the body. Many SIBO doctors find their best medical treatment is stymied by bowel adhesions. As Clear Passage®️ therapists decrease or eliminate adhesions, medications can work as they should. As the treated bacteria exits the GI system, intestinal mobility, motility and absorption can improve – significantly. Thus, many physicians treating SIBO suggest we clear the intestines of adhesions before they treat, to increase the effectiveness of their treatment. We are glad to work with your doctor to create a treatment plan specific to your individual needs.
Remarkable history with SIBO
While treating adhesions for other bowel conditions, several physicians called to ask what we were doing with their patients. They said their medications lost effect unless we treated SIBO patients concurrently. One doctor said we saved his patient's life. "My patient became incredibly weak; she was in a wheelchair because SIBO bacteria were eating her food," he said. "Her medications would work for a few days, then symptoms returned as if she were never treated." After we treated her, the doctor reported that her medications started working. She regained her normal weight and lifestyle, no longer weak or wheelchair bound.
Dr. Steven Sandberg-Lewis, a world expert in SIBO, flew to Florida to consult with us. Together with a research team including a hospital Chief of Staff, we developed a protocol to treat patients with persistent or recurring SIBO by combining our therapy with medications given during a course of treatment, similar to the regime we used for the patient noted above.
Clinically, the treatment regimen we developed has been effective for many challenging SIBO cases. We were honored to be invited to present our findings at two national SIBO conferences, and at the annual meeting of the American Association of Naturopathic Physicians.
Scientific backing
Developed over 30+ years, our therapy is very site-specific to decreasing or eliminating adhesions. Clear Passage®️ is much different from any other medical intervention or other manual therapy. Under the guidance of physicians and research scientists, our work has been shown to be safe and effective in numerous medical journals.
While other forms of bodywork such as visceral manipulation (VM) and myofascial release (MFR) have been cited for helping musculoskeletal conditions, no published data exists showing these modalities are effective treating the bowels. Numerous studies available from the U.S. National Institutes of Health, PubMed and Google Scholar show our therapy has repeatedly decreased or eliminated adhesions in the bowel, abdomen, and pelvis, returning organs to an earlier state of pain-free function.
Is this therapy right for me?
If your SIBO symptoms appear unaffected by medications or symptoms return after initial relief, it is a good indication that your problem is bowel adhesions. We can help determine this (at no charge) by reviewing your medical history. Simply take the time to complete and return our Medical History Form.
If your history indicates you have adhesions, we are glad to work in concert with your physician to create a treatment plan designed specifically for you. In most cases, this means starting medications or antimicrobials a few days before therapy, continuing during your 5-day session with us and for several days after therapy. In short, the course we suggest is:
Complete our Medical History Form for us to review (about three workdays)
We contact you to advise if we feel therapy may help
If 'yes', you or we contact your physician to suggest a treatment plan for you
Your doctor prescribes medications to take in tandem with therapy
You schedule therapy at one of our clinics
In-depth video on treating bowel adhesions (58 mins)
Over the years, we have created a list of screening criteria and outcome predictors that are unique to our treatment. Understanding the many processes that occur in the abdomen, we meticulously review your history, diagnostic tests, and physician notes to help assure your safety and predict the effectiveness of our work before accepting you for therapy.
Comparing Clear Passage® to other therapies
It is important to understand the difference between Clear Passage® and other types of bodywork. In several published studies housed by the National Institutes of Health (NIH) and the National Library of Medicine, Clear Passage® is the only hands-on therapy shown to decrease adhesions in the bowel. Myofascial release (MFR) can be a wonderful for treating muscles (myo) and fascia (fascial), but no study exists showing its use treating intestinal conditions. Despite its name, not a single study shows visceral manipulation (VM) can treat the bowel or any organ in humans. The differences are examined more fully on our FAQ page.
Digestive health guides
Dr. Alison Siebecker is an accepted authority in foods and medications shown to be useful for people with SIBO. Patients with SIBO often find valuable information from her SIBO diet guide. These recommendations are very different from those we provide to people who experience life-threatening bowel obstructions. For those, our Digestive Health Guide for Bowel Obstructions can save literally lives. It contains information consolidated from the Public Health Agency of Canada, Mayo Clinic, Penn Medicine, and several licensed diet professionals. You can find more information on treating recurrent small bowel obstructions here.
Published success rates
Published success that show safety and effectiveness treating intestinal adhesions are available at our Published Success Rates page. We have recently begun designing studies for success treating SIBO in concert with your doctor.
Testimonials
To view a Clear Passage SIBO patient story:
Cautions and Contraindications
During our discussions with SIBO physicians, we expressed our need to screen patients for contraindications. In addition to treating the bowels, our work also treats the interstitial spaces of the body — the areas between organs and other structures. We find that if a person comes to us with an underlying condition, infection, severe active inflammation or heightened inflammatory markers, therapy can induce negative side-effects. We don't want that to happen, so we regularly screen for infections and uncontrolled inflammatory conditions before accepting applicants for therapy.
We screen by looking at your systemic profile a bit differently than other medical specialists – because we treat the whole body. By requesting certain screening tests, we can measure your degree of inflammation and your tendency towards inflammatory responses – to get you the best results possible.
It is important to remember that Clear Passage®️ treatment is different from any other type of medical intervention; the outcome predictors we use are unique to our treatment. While the SIBO bacteria is a local overgrowth and Xifaxan (Rifaximin) is typically focused in the bowel, patients can experience systemic side effects from bacterial "die off" and treatment itself. Therefore, we screen each patient to achieve the best results – without significant negative side-effects.
Our Digestive Health Guides
Digestive needs and dietary recommendations for patients with SIBO are very different from those with recurring bowel obstructions. You can find one of Dr. Siebecker's SIBO diets by clicking this link: https://clearpassage.com/wp-content/uploads/2021/03/sibo-specific-diet-food-guide.pdf.
Note: Any dietary guide we offer contains information we gathered and consolidated from licensed diet professionals. These resources should never replace the guidance of your physician or a licensed dietician.
Clear Passage®️ History Treating SIBO Naturally
In 2014, Dr. Allison Siebecker, a nationally regarded SIBO specialist contacted us. She had noticed surprisingly positive results in SIBO patients who saw us. We conferred and discussed our various fields of expertise. She was an expert in SIBO; we were experts in decreasing bowel adhesions. We discussed areas where our work overlapped, and how we could help patients with SIBO.
In 2015, Dr. Steven Sandberg-Lewis, another nationally regarded SIBO expert, came to our Florida Headquarters for further consultation. Together, we sharpened protocols for treating patients with recurring SIBO. It became apparent that we were helping many people with recurring SIBO because we cleared adhesions that prevented bacteria from leaving the body after antibiotic use. Dr. Sandberg-Lewis asked us to address the Second Annual SIBO Symposium in Portland, Oregon, later that year. We did that; the doctors at the Symposium were very receptive to our work – and to working together to help their patients attain normal lives.Many of these doctors and SIBO experts were concerned that, unless adhesions could first be cleared without surgery, they would never cure their patients' gut issues. 
We were joined on the podium by several leaders of SIBO research, including:
Dr. Mark Pimentel, Director of the GI Motility Program at UCLA's Cedars Sinai Medical Center (Los Angeles)
Dr. Gerard Mullin, Director of Integrative GI Nutrition Services, Johns Hopkins Hospital (Baltimore)
Dr. Leonard Weinstock, President of Specialists in Gastroenterology and the Advanced Endoscopy Center, Associate Professor of Clinical Medicine and Surgery at Washington University School of Medicine (St. Louis) (http://www.gidoctor.net/)
Dr. Allison Siebecker, Conference Director, and Medical Director of the SIBO Center for Digestive Health at the National College of Natural Medicine (NCNM; Portland, OR)
Dr. Steven Sandberg-Lewis, professor of gastroenterology, pathology and psychophysiology at the SIBO Center for Digestive Health (NCNM; Portland, OR)
Like Clear Passage®️, these dedicated physicians and others are working to help improve quality of life and eliminate SIBO for many patients.
Other Treatment Options (Surgery, Drugs)
Although the treatment for SIBO is effective in many patients, those who suffer from bowel obstructions are unable to expel the bacteria the medication is designed to treat. To address this life-threatening concern, many physicians turn to surgery as an option. However, surgery is the primary cause of bowel obstructions. Additionally, surgery is likely to cause the formation of more adhesions, creating more blockages that will make antibacterials ineffective in treating SIBO. 
Published Success Rates
To view our published success rates treating intestinal adhesions, please visit our Published Success Rates page. 
Testimonials
To read previous patient success stories, please visit our Testimonials page.
If you'd like a free consult, please take 20 minutes and fill out this form and we can determine if therapy would be a good fit for you.