Throughout the world, therapy costs vary widely. You must ask yourself, "What level of service am I getting?" Services such as ice, heat, electrical modalities and group sessions where therapists oversee several patients at a time cost less than intensive hands-on services cited as effective in medical journals and performed one-on-one in a private treatment room. We find the former modalities do little to address the lifetime goals of most of our patients.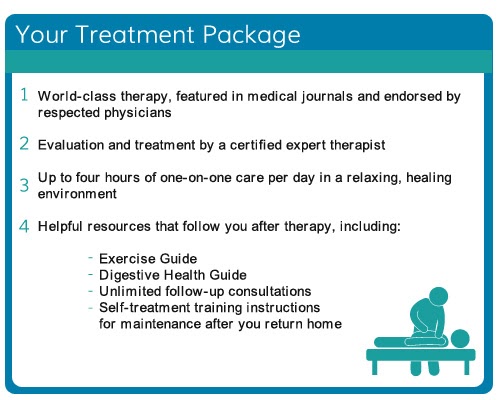 Clear Passage® provides highly specialized physical therapy (physiotherapy) services. In both cases, those are are licensed health care professionals with advanced university degrees in their profession. In the U.S., they are licensed by each state to treat pain and dysfunction, non-surgically. CP therapists are all highly specialized in manual treatments. To learn more about our therapists and their backgrounds please visit our "Meet Our Therapists" page. 
Clear Passage® certified therapists have demonstrated excellent skills in manual physio/physical therapy throughout their careers. Clear Passage®️ therapy is a unique treatment that has earned the respect of many fine physicians (see Authors, Researchers and Advisors). This therapy represents a unique compilation of advanced manual therapy techniques, combined with techniques we have developed and researched since 1989. 
Many try to compare us with massage therapy. We do not provide massage therapy, and it is important to recognize that the Clear Passage® Approach is not massage. Our work is a very specialized, site-specific manual therapy designed to address the adhesions that cause pain and dysfunction. We developed our manual therapy over 20+ years of study, research, and development in the conditions we treat. We have significant expertise in the anatomy, function and treatment of the entire body. Neither massage nor any other pelvic therapy has published results proving effectiveness treating adhesion-related disorders. Only the Clear Passage® approach has been shown in medical studies and citations to:
decrease adhesions

improve natural pregnancy rates

improve IVF success rate

open blocked fallopian tubes (with live births)

open hydrosalpinx (with live births)

decrease endometriosis pain

significantly decrease intercourse pain, and

improve sexual function

Clear bowel strictures and obstructions

Reduce the incidence of repeat bowel obstructions and surgeries
Fertility Program:
Our 20 hour fertility program has become the "gold standard" as a non-surgical fertility therapy. It is designed to increase your reproductive function and decrease any chronic or recurring pain in the body. It includes therapy to improve hormonal levels and decrease or eliminate any abdominal, pelvic, bowel, back, hip or tailbone pain.
Pain Program:
Our pain program is designed to address the cause of chronic, unexplained or recurring pain anywhere in the body. Frequent pain complaints we treat include long-standing back, hip, and chronic neck pain; frequent debilitating headaches; pelvic and abdominal pain or cramps; pain from endometriosis, menstruation, or intercourse; full body or unusual pain patterns; and tailbone pain.
Patients coming for pain issues only may attend hourly as needed but tend to benefit more from two-hour sessions. Please contact us for more information regarding your specific needs.
Improved Function Program
:
Our improved function program is designed to address the causes of decreased function.
Bowel Obstruction Program:
The Clear Passage® program to prevent recurring small bowel obstruction (SBO) is unique in the world. Peer-reviewed published data shows we decreased the incidence of total SBO by 15 times the norm. Post-surgical adhesions are regarded as the primary cause of repeat bowel obstructions.
Patients with a history of adhesion-related small bowel obstruction (SBO) generally fall into three categories: mild, moderate or severe. While we meet most patients' goals with 20 hours of therapy over five days, those with moderate to severe adhesions tend to benefit from a few more hours. After the initial 20 hours, patients have a good sense of whether more therapy is warranted. Additional treatment hours can be scheduled soon after the initial treatment, or much later if deemed necessary.
Mild adhesions:
Patients with one prior abdominal or pelvic surgery without infection or trauma typically have success after 20 hours of our treatment with no need for further therapy or surgery.
Moderate adhesions:
These patients may require up to 30 hours of treatment:
two or three abdominal or pelvic surgeries, or

moderate trauma to the abdomen and/or pelvic area, or

infection requiring injected or intravenous antibiotics, or 

long-standing inflammation (endometriosis, Crohn's, ulcerative colitis, etc.) 
Severe adhesions:
These patients may require 40 hours or more of treatment:
three or more abdominopelvic surgeries, or

bowel resection surgery with post-surgical complications, or

severe trauma to the abdomen or pelvis, or 

infection in the abdomen or pelvis (e.g. burst appendix, inadvertent enterotomy, peritonitis) that required either directly applied or intravenous antibiotics, or more than two weeks of oral antibiotics, or

massive longstanding inflammation.
Sexual Function: 
Studies show women who received our therapy experienced significant improvements in all areas of female sexual function (desire, profound intercourse pain decrease, arousal, lubrication, orgasm, and satisfaction).
To schedule, please fill out our Comprehensive Medical History Form, or call us at (352)-336-1433.
Most patients find it most effective to schedule the 20-hour program over the course of five days (e.g. Monday-Friday). In this case, you would receive four hours of therapy a day – usually two hours in the morning, then at least an hour break followed by two hours in the afternoon.
Alternately, you may choose to schedule in 10-hour increments or hourly over three months time with a minimum two-hour initial visit. 
World Phone: 1-352-336-1433
Because we have set aside valuable therapist time to your, the balance is due 10 business days prior to your first scheduled appointment.
Any additional history of trauma, infection, inflammation or surgery could change your suggested number of treatment hours. Your phone consultation with one of our therapists will help determine your best protocol for success.
Once you schedule, we provide you with our "Patient Companion" — a location-specific guide designed to assist you to learn what to expect before, during and after therapy including:
Area information (maps, hotels, restaurants, etc.)

Suggested conversations with your insurance provider
We are committed to provide you with individualized care with a focus on finding and treating the cause of your pain or dysfunction. We work hard to help you reach and hopefully surpass your specific goals and concerns. While we have published promising research, scientific evidence of our results, the effectiveness of this treatment procedure cannot be guaranteed. If you are not satisfied with the care you receive, you may end therapy at any time and receive a full refund of your prepaid, unused sessions, minus the non-refundable deposit.
Rescheduling and Cancellation Policy
Except as noted herein, your deposit is non-refundable. By paying your deposit, you confirm you have or will disclose your complete lifetime medical history. For your safety, we will request you to provide reports from your latest diagnostic tests from the last 12 months along with all available typed surgical reports and to assist us in obtaining any necessary clearance or records from your physician(s). Failure to do so may result in our inability to treat you and forfeiture of your deposit. Refund requests are handled on a case by case basis. We will refund your deposit if your physician advises us in writing of a specific, permanent contraindication to therapy. We reserve the right to deny refund requests made within 30 days of your scheduled therapy or without appropriate documentation of contraindication. Your initial visit may be rescheduled once without penalty. A new deposit may be required to change your treatment date after the first reschedule. If you discontinue therapy after it begins, we will refund any unused balance minus the non-refundable deposit.
Insurance and Financing (U.S. Patients)
If you'd like a free consult, please take 20 minutes and fill out this form and we can determine if therapy would be a good fit for you.