About the Clear Passage® Approach and Wurn Technique®
A Non-Surgical, Drug-Free Treatment
The Wurn Technique® (WT) is a unique hands-on physio/physical therapy modality, developed over 30+ years by Belinda Wurn, PT, and Larry Wurn, LMT. It was initially created to decrease pain and increase function for Belinda, when adhesions from surgery and extensive radiation therapy left her unable to work due to debilitating chronic pain. Physicians said surgery would only make it worse because of the adhesions that inevitably form after surgery. They suggested she take drugs to mask the pain.
Unwilling to endure a life of drugs and pain, Belinda and Larry began searching for a non-surgical cure. They took dozens of advanced courses in the U.S. and abroad, including study at a French medical school. They discovered that the body forms adhesions – powerful bonds similar to nylon curtains or ropes – to help injured tissues heal. Once healing has occurred, adhesions remain in the body, often binding tissues that were previously free to move naturally. When this happens, pain and dysfunction are the natural result. As they developed their findings into a treatment, Belinda was able to return at a pain-free life. The WT was born from the Wurns' newfound knowledge.
Deeply moved by their life-changing experience, they dedicated their lives to help others with debilitating or unexplained pain or dysfunction. Combining the WT with other skills they learned, they hired and trained highly manual skilled manual therapists – those with excellent hands-on skills – to further develop and refine their work. They asked patients to help them identify what felt right – and to become active members of the team treating them. As they began documenting remarkable results treating a variety of conditions, they realized that adhesions could affect any area or system of the body. Encouraged by doctors and scientists, they started publishing their results in peer-reviewed medical journals.
Over the years, the Clear Passage group has developed, tested and published results on protocols that are effective in treating a wide variety of adhesion-related conditions, including female infertility, endometriosis, hormonal conditions, post-surgical pain, and bowel obstructions. While they call this expanded work and their philosophy of patient involvement the Clear Passage Approach (CPA), the WT remains at the core of all of our therapies. Thus, the WT is the core modality that focuses on adhesions; the CPA refers to the protocols we use to treat various conditions.
The WT is designed to deform and detach the bonds of these tiny but powerful adhesions, and return the body to normal, pain-free function. As a manual therapy, it works without the risks or side effects of surgery or drugs.

From your first visit, we perform specialized manual 'hands-on' therapy to treat the causes of your pain or dysfunction. We feel it is important to address the body as a whole, rather than in parts, in order to:
Significantly decrease or totally eliminate pain
Improve mobility and flexibility
Restore balance and functional ability
Improve postural asymmetries or deviations
Sometimes, therapy can feel like a deep massage; other times, the work can be very light, as it follows the subtle rhythm within the sheath that surrounds the spinal cord. Depending on the diagnosis and treatment area, the therapist may work to improve motility, or subtle organ movements. At other times, the therapist may ask the patient to flex large muscles or move in certain ways to improve the body's symmetry and function.
We maintain communication with patients at all times to ensure their comfort level and full understanding of our intent and findings. Because we see each patient as an expert in her/his body and its history, we invite each patient to become an active member of the team that is evaluating and treating them. We also educate patients in techniques they can use at home after therapy, to maximize results and prevent reinjury.We treat the entire body with a focus on specific areas of pain or dysfunction. This includes over 200 techniques, designed to reduce and eliminate the adhesions that form wherever the body heals. The therapy is defined in a 600-page Therapist Training Manual, written by the Wurns and their staff. Study of and testing on its contents is required for any therapist before receiving training and licensure to provide this work.
During its decades of development, this therapy has helped thousands of men, women and children reclaim their lives. Some people use it as a stand-alone treatment, while others use it as an adjunct to their physician's care. It is designed to decrease the adhesions that cause chronic pain and dysfunction. It has been highly effective treating recurring bowel obstructions, post-surgical pain, female infertility and pelvic dysfunction.
Positive results of our work have been published in peer-reviewed medical journals and accepted into the U.S. National Library of Medicine. Citations about the therapy appear in peer-reviewed journals, including WebMD's Medscape General Medicine, Alternative Therapies in Health and Medicine, and the Journal of Endometriosis. Physicians and scientists from respected medical schools endorse this work, and help guide our team in its ongoing scientific inquiries.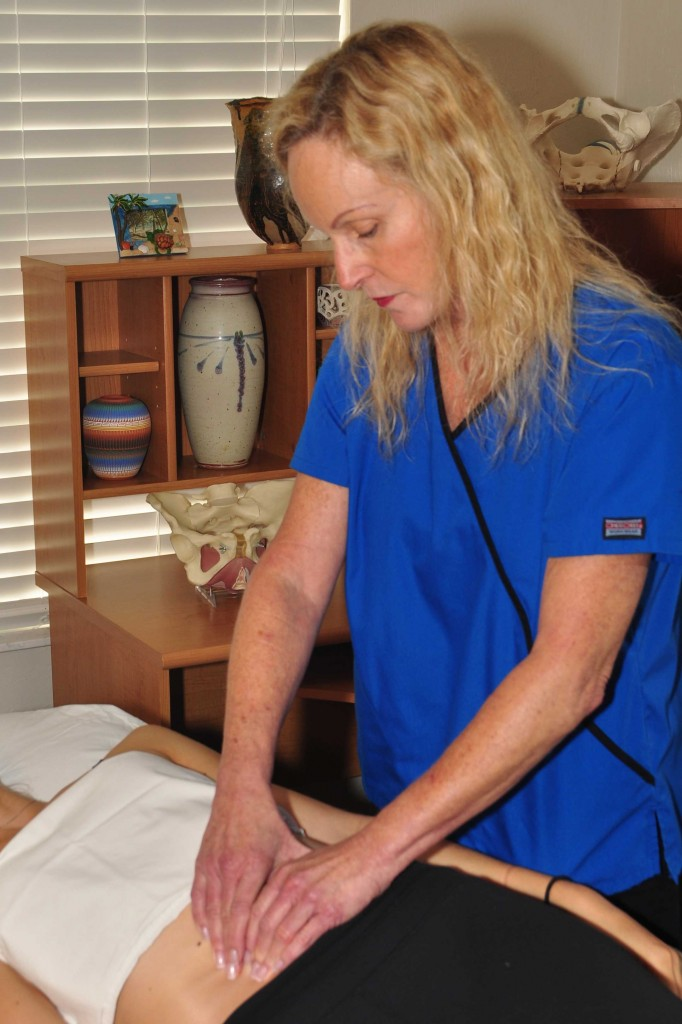 Belinda Wurn, PT works with a patient
If you'd like a free consult, please take 20 minutes and fill out this form and we can determine if therapy would be a good fit for you.