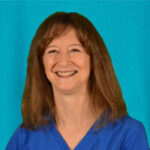 Director, Clear Passage Manhattan since 2008
Aura has been a decorated physical therapist for over 30 years. She became a certified Clear Passage therapist in 2006, and quickly became the Director of our Manhattan location.
Aura grew up in NYC surrounded by the hustle and bustle of the big city.  She attended private high schools in Queens and Brooklyn, graduating in the top 20% of her class. Due to spending 6 months of her senior year in high school studying in Israel, Aura is fluent in English and Hebrew, and can 'manage somewhat' in Yiddish, French and Spanish.
She graduated first with a BA, then a Masters of Science in Exercise Physiology from CUNY in 1981. Her first career was in fitness, working for 5 years at the Hofstra Health Dome, first as an exercise leader and ultimately became Director of Adult Fitness, Cardiac Rehab and Stress Testing. She was drawn to physical therapy when she saw her father develop Parkinson's disease and slowly lose his mobility. Originally, she wanted to further her knowledge of injury prevention, and of maintaining the integrity of the musculoskeletal system and rehabilitation.
Aura's career has been diverse; she frequently worked two jobs at the same time, doing rehabilitation during the day with nursing home, head injury and homecare patients, and evenings doing manual therapy in out-patient settings.
While working with head injury for 4 years, she developed and presented "Physical Therapy in Cognitive Remediation: A Therapeutic Model," Rebuilding Shattered Lives Symposium, Robert Wood Johnson Institute   May 1990. Before coming to Clear Passage in 2006, she underwent training in Cardiac Physical Therapy, Feldenkrais, Visceral Mobilization, Myofascial Release, Tupler technique for treatment of diastasis, and LSVT BIG for treatment of Parkinson's.
Aura married at 42; the next week she and her husband consulted with a Reproductive Endocrinologist about the best course to have a baby. She was told she had a too many "issues," and would have to use donor eggs. She pursued motherhood with the assistance of a supportive RE while she changed her lifestyle, nutrition, and performed daily mindfulness activities.  Her son was born in June 2000. Aura felt called to women's health due to the struggle she had in getting support in the process.
Aura has been physically active all of her life, playing basketball in high school, rollerblading and running, as well as being an avid skier. She jokes that she sustained many of her injuries in order to learn how to treat her patients, how to feel their challenges, focus them on finding their strengths to evolve through the process of healing.  To balance some her energy, Aura paints in watercolor, acrylic and pastels, knits, and loves to cook.
If you'd like a free consult, please take 20 minutes and fill out this form and we can determine if therapy would be a good fit for you.