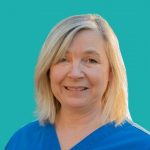 Charmaine, Chartered Physiotherapist
Charmaine graduated with a Bachelor in Physiotherapy in 1994 from University of Durban-Westville in South Africa. For many years, she studied and worked with chronic pain which profoundly changed the way she views patients and conditions.
She developed an interest in biomechanical issues and muscle imbalances and how it affects efficiency of movement. She also specialises in posture related neck and shoulder conditions. Charmaine has worked in North London for past 25 years and works closely with many renowned consultants based in North London.
Currently, Charmaine uses a hands-on approach using a combination of manual therapy, soft tissue, and connective tissue techniques with tailored design exercise programmes. She emphasis patient education as a very important part of the treatment. She believes that an understanding of the condition decreases the stress and anxiety and increases the trust and compliance with exercises.
With a focus on individualized treatment, Charmaine listens deeply to each person to maximize the opportunity for healing to occur. As a Clear Passage therapist, she particularly enjoys the opportunity to get to know her patients on a deep level as they work together to achieve the patient's goals.
If you'd like a free consult, please take 20 minutes and fill out this form and we can determine if therapy would be a good fit for you.