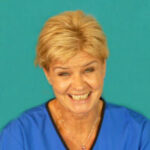 MSC, HCPC, MCSP, AACP, APCP
Director, Clear Passage London
Eva qualified as a physiotherapist in 1980 from the Medical College of Physiotherapy and Rehabilitation, Warsaw, Poland and earned a Master's in Physiotherapy and Rehabilitation at the Academy of Physical Education in Warsaw. She worked for two years at the Rehabilitation Centre- STOCER in Warsaw, gaining experience in many fields of physiotherapy. She developed a passion for paediatrics working in the prestigious Institute of Rehabilitation for Children with Chronic Disabilities, Poland.
Since moving to the U.K. in 1986, Eva has attended numerous postgraduate training courses in manual therapy, gaining extensive knowledge of Maitland, Cyriax, McKenzie and neurodynamic methods.
She has 30 years of experience in treating a wide range of musculoskeletal conditions from work-related repetitive strains, spinal disorders, post-surgical rehabilitation to postural strains due to muscles imbalances and sports injuries.
Eva works within an extensive network of outstanding surgeons, consultants and general practitioners in North West London. She is also an active member of the AACP (Acupuncture Association for Chartered Physiotherapists) and at times uses acupuncture to help relieve her patients' pain. She specializes in Hypermobility Syndrome in paediatrics and adolescence and works very closely with Dr. Nathan Hasson, renowned Consultant Rheumatologist and his team.
Prior to joining the Clear Passage team, Eva had vast experience in many different modalities in her treatments, such as mobilisations, manipulations, connective tissues massage, muscle energy techniques, Bowen and acupuncture. She creates exercise programs tailored to each patient's needs.
Eva is very passionate about her work and has developed each of the physiotherapy departments she has been a part of, including the departments at The Garden Hospital (1986-2006), The Iryo Centre (1990-2007) and The 999 Medical and Diagnostic Centre (2000-2013). She is pleased to develop the Clear Passage program at her clinic, helping patients overcome chronic pain, bowel obstruction and various women's health conditions.
Eva recently co-authored a book titled The British Medical Association's Guide to Back Care: Preventing, Diagnosing, and Treating Back and Neck Conditions, published in August 2011.
If you'd like a free consult, please take 20 minutes and fill out this form and we can determine if therapy would be a good fit for you.