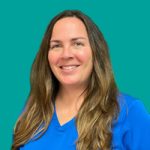 Kate is a Doctor of Physical Therapy who deeply appreciates providing patient care in direct collaboration with the patient. She gets tremendous satisfaction from seeing clients succeed when the power of skilled manual therapy is combined with compassionate listening and comprehensive patient education. Kate believes the human body is an amazing structure that is more resilient than many realize and that the body has huge capacity for self-healing.
Kate has been practicing since 2010, when she graduated with her Doctor of Physical Therapy from Sage Graduate School. She also holds a BS in Human Biology from the State University of New York at Albany. Kate is certified in the Clear Passage Approach and Wurn Technique. In addition to being certified in the Wurn technique, she has extensive manual therapy training in many modalities which makes her very well rounded. 
Prior to joining Clear Passage, Kate has worked with clients and their families across a multitude of settings, focusing on empowering her patients to take an active role in their health and well-being. She is dedicated to obtaining positive results through a holistic approach and helping her clients to avoid unnecessary surgeries.
Outside of work, Kate enjoys spending time with her family, going to the beach, or grabbing a bite to eat someplace she's never tried before.
If you'd like a free consult, please take 20 minutes and fill out this form and we can determine if therapy would be a good fit for you.