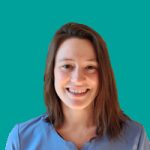 Maura is a Licensed Massage Therapist with a love for deep, effective work and connecting with her patients. She began her career in 2014, learning a diverse array of modalities at the Arizona School of Integrative Studies. Her affinity for manual therapy began early on, and she continuously furthers her education in those techniques. 
Maura serendipitously found Clear Passage as she was experiencing gut-related issues herself, and sank passionately into the work, receiving her certification after rigorous training in the Clear Passage Approach and Wurn Technique.
Maura finds immense fulfillment and gratification through the week she spends with Clear Passage patients, watching the personalized care plans unfold as patients emerge with newfound function. She enjoys giving patients the tools to continue their own healing journey.
When Maura is not treating, she is most likely to be found in the woods with her animal pack, dancing, practicing yoga, or enjoying the company of family.
If you'd like a free consult, please take 20 minutes and fill out this form and we can determine if therapy would be a good fit for you.