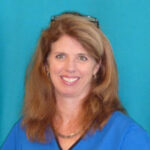 Director of St. Louis Location
Sharon graduated from St Louis University with a Bachelor of Science in Physical Therapy in 1992. An expert manual therapist, her extensive training and experience include:
Completing a plethora of manual therapy courses including the Clear Passage Approach and Wurn Technique, MFR, Lymphatic, CST, & Visceral Manipulation;
Serving as an adjunct professor at a prestigious physical therapy school, Washington University, in St. Louis, where she taught Anatomy. Physiology and Manual Physical Therapy;
Opening her own practice in 1999 where she treated complex patients with extensive medical histories for over 15 years;
Even before joining Clear Passage, she had performed over 20,000 hours of manual therapy treatment on her patients.
Sharon's focus is individualized treatment and listening deeply to each person to maximize the opportunity for healing to occur. As a Clear Passage therapist, she particularly enjoys the opportunity to get to know her patients on a deep level as they work together to achieve the patient's goals.
Sharon authored the book "Mothering…Your Inner Connection." She enjoys public speaking and teaches Mindful Based Stress Reduction. Sharon lives in a suburb of St. Louis with her husband of 20+ years with their 2 children."
If you'd like a free consult, please take 20 minutes and fill out this form and we can determine if therapy would be a good fit for you.