Imagine going through an invasive surgery without being offered alternative options. Now imagine that the surgery didn't alleviate the pain it was supposed to. This is a grim reality many women are facing, according to a study published in the American Journal of Obstetrics & Gynecology, which found that 1 in 5 U.S. women who have a hysterectomy do not need the surgery. This statistic is troubling, particularly given the link between hysterectomy and chronic post-surgical pain and/or dysfunction.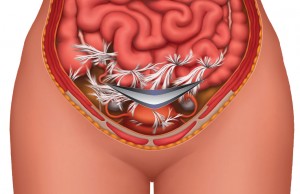 In the study, researchers observed 3,397 women with non-cancerous diagnoses for 10 months. Key findings included:
More women under the age of 40 had unnecessary hysterectomies (38%) than those over 40 (7.5%).
Approximately 40% of study participants had not been advised of alternative treatment options.
Endometriosis—a condition in which endometrial tissue that normally lines the uterus is found in other areas of the body—is one of the most common reasons women consider hysterectomy. Yet, the study reported that women with endometriosis were among the most likely to have pathology reports that did not support the surgery.
Whether their chronic pelvic pain is due to endometriosis or stems from another condition, we encourage women to investigate available non-surgical treatments. Our hope is that greater awareness of alternative approaches will help reduce the number of unnecessary hysterectomies.
Non-surgical treatment of endometriosis
Our therapy addresses endometriosis and other women's health conditions that cause chronic pelvic pain, without drugs or surgery. We believe the endometriosis pain to be the result of adhesions, which form in response to the inflammation caused by endometrial implants. Adhesions are internal scars that the body develops as part of its natural healing process after inflammation, infection, surgery or other tissue trauma. Our therapists use manual therapy techniques designed to deform and detach adhesions.
We have high success rates treating endometriosis pain non-surgically. In 2011, we published a study titled "Decreasing dyspareunia and dysmenorrhea in women with endometriosis via a manual physical therapy: Results from two independent studies" in the Journal of Endometriosis. It showed that women with endo who received our therapy experienced pain reduction in the following categories:
80% had reduced pain during intercourse
61% had reduced menstrual pain
50% had pain reduction during ovulation
In 2014, we published a follow-up study in the same journal, titled "Update on 'Decreasing dyspareunia and dysmenorrhea in women with endometriosis via a manual physical therapy: Results from two dependent studies.'" This follow-up report showed that participants had lasting pain relief, including:
significant reduction in menstrual pain four and 12 months after therapy
significant reduction in intercourse pain at four months and suggestive at 12 months after therapy, with 50% reporting a complete reduction of pain
Treating post-hysterectomy pain naturally
Our therapists are also experts in treating post-surgical pain. We have treated many women with pain and/or dysfunction following hysterectomy or other pelvic surgery—procedures that often cause adhesions to form. When adhesions form after a hysterectomy, patients can experience various side effects, such as pelvic or intercourse pain and pain during or after urination.
Post-surgical adhesion formation has been documented in medical literature. After surgery, 55-100% of patients saw adhesions form in the pelvis and 90% of the patients saw adhesions form in the abdomen, according to a study in Digestive Surgery. As a result, post-surgical pain is common after hysterectomy — a procedure many women choose to have in order to eliminate pelvic pain. Using their hands, our therapists address post-hysterectomy pain by detaching the adhesions binding pelvic organs and tissues together.
If you'd like a free consult, please take 20 minutes and fill out this form and we can determine if therapy would be a good fit for you.