Introduction:
Dealing with infertility can be an emotional and challenging journey. However, for three friends – Alexandra, Angie, and Cathleen – their long struggle with infertility found a solution in an unexpected place: a unique "fertility massage." This groundbreaking therapy, known as the Wurn Technique®, has provided hope and success for these women, offering a hands-on approach that yielded results when traditional medical interventions fell short.
The Power of the Wurn Technique®:
The Wurn Technique®, a patent-protected deep manual therapy, has emerged as a ray of hope for women battling infertility. This innovative therapy, free from drugs and surgery, aims to address adhesions and scar tissue that contribute to nearly half of all female infertility cases. Belinda Wurn, a physical therapist and co-developer of the technique, explains that the therapy employs a specialized approach using hands to identify and treat adhesions around a woman's reproductive organs. By gently freeing the reproductive tissues from these adhesions, the therapy seeks to restore proper function and increase the chances of conception.
Impressive Results and Scientific Validation:
Coverage in Medscape General Medicine, Ob/Gyn & Women's Health has shed light on the effectiveness of the Wurn Technique®. The journal highlights that 71% of infertile women who underwent the therapy conceived naturally within a year, without the need for additional medical procedures. In a separate study, women who received the therapy before undergoing in vitro fertilization (IVF) showed remarkable success, with 67% of IVF transfers resulting in pregnancy. This statistic surpasses the national average success rate of 41% reported by the CDC for IVF procedures. Notably, the success stories of Alexandra, Angie, and Cathleen stand out as they achieved pregnancy without resorting to surgical interventions.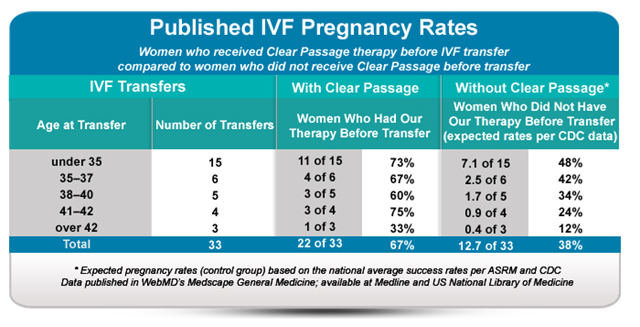 Alexandra's Triumph:
Alexandra's journey to motherhood began with challenges – one blocked fallopian tube and another scarred due to a previous C-section. Her physician expressed doubts about her chances of conceiving again. Despite the odds, Alexandra's persistence led her to the Wurn Technique®. Remarkably, she has since welcomed two children into her life and is now expecting another. Alexandra's success inspired her to recommend the therapy to her friend Angie, who had her own struggles with infertility.
Angie's Hope Renewed:
Angie's infertility battle spanned five years, marked by endometriosis, miscarriages, and multiple failed intrauterine inseminations (IUI). Frustrated and disheartened, Angie discovered the Wurn Technique® and underwent the therapy. To her delight, she conceived naturally and gave birth to a healthy baby girl. Angie firmly believes that the therapy played a pivotal role in her journey to motherhood.
Cathleen's Miraculous Outcome:
Cathleen's infertility story was similarly arduous, as she faced a mere 5% chance of conception even with IVF due to extensive scar tissue and adhesions. After four unsuccessful IVF attempts and years of disappointment, Cathleen decided to give the Wurn Technique® a chance. Her decision paid off when she became pregnant a few months after the therapy. Today, she proudly holds her little girl, a testament to the therapy's impact.
A Bright Future:
Larry Wurn, co-developer of the Wurn Technique® and Director of Clinical Studies at Clear Passage Therapies, expresses enthusiasm about the positive outcomes witnessed through the therapy. He shares that hundreds babies have already been born or are on the way for women who were once diagnosed as infertile. This underscores the therapy's potential to transform lives and create new possibilities for couples struggling with infertility.
The heartwarming stories of Alexandra, Angie, and Cathleen serve as beacons of hope for those navigating the challenging path of infertility. Their success with the Wurn Technique® offers a promising alternative to conventional medical interventions, showcasing the remarkable power of holistic and hands-on therapies. As this innovative approach continues to show impressive results, it brings newfound optimism to individuals and couples seeking to fulfill their dreams of parenthood.
If you'd like a free consult, please take 20 minutes and fill out this form and we can determine if therapy would be a good fit for you.