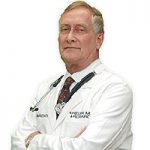 Clear Passage affiliation:
Study Author
Research Advisor
Academic history and affiliations:
University of Minnesota Medical School, Medical Degree

University of Florida, Clinical Associate Professor, Community Health and Family Medicine

University of Minnesota, Clinical Associate Professor, Department of Family Medicine

IntegraMed America, Vice President of Clinical Research

SmithKline Beecham Pharmaceuticals, Research & Development

Vice President, Director Worldwide Clinical Investigation 
Biography, posts:
Marvin Heuer is an internationally recognized research physician with over 40 years of experience in the medical field and 25 years of experience in domestic and international clinical research. Graduating cum laude from Mankato State University in Minnesota in 1969, Dr. Heuer earned his medical degree from the University of Minnesota Medical School and completed his internship at St. John's Hospital in St. Paul shortly thereafter. Dr. Heuer has been published in several peer-reviewed scientific publications and presented a wide variety of papers at research and medical conferences in the United States and abroad.

Dr. Heuer has served as the Vice President and Worldwide Director of Clinical Research for several companies including SmithKline (now GSK), Wallace Laboratories (now Meda AB) and Ayerst Laboratories (now Pfizer). Moreover, He also served as the Chief Science Officer for Iovate Health Sciences International in the research and development of nutraceutical products.
Dr. Heuer is a certified expert in FDA regulations and chemistry with extensive experience and interaction with the FDA, FTC and ERSP within the pharmaceutical and nutraceutical industries. He actively continues practicing medicine, conducting clinical trials and participating on review boards within the nutraceutical arena.

Dr. Heuer enjoys teaching, publishing, inventing and actively serving within the community and professional societies. His contributions over the years have earned him numerous awards from the American Medical Association and the Marquis Who's Who series.
If you'd like a free consult, please take 20 minutes and fill out this form and we can determine if therapy would be a good fit for you.