Mark first received treatment at Clear Passage five years ago, when recurring bowel obstructions were threatening his life. Prior to beginning therapy, he had spent a total of over 140 days in the hospital — 96 of which were during a medically induced coma — and had several bowel repair surgeries.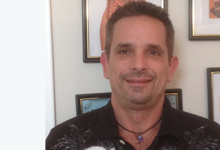 Since his initial treatment program, Mark has been coming back to Clear Passage regularly as part of a maintenance program that keeps his adhesions and obstructions at bay. He is also a moderator for our online Bowel Obstruction Support Forum, where he answers questions and provides advice to others suffering from obstructions.
We had the chance to catch up with Mark recently — read on for an update on how he is doing today.
How long have you been a Clear Passage Patient?
I have been coming here for about four years now. As part of a maintenance program, I come back here every month and get treatment for my adhesions.
If it wasn't for me coming back to get treatment for my adhesions I would have been in the hospital many times. The hospital was a place I'd been to many times before I found Clear Passage. That was the solution to all my problems and I have not had another bowel obstruction since I started seeing Clear Passage. Before that, I had two bowel obstructions; for one of them, I was in the hospital for 40 days the other I was in the hospital for seven. Eventually, I felt empowered to just walk out of the hospital because Clear Passage gave me the knowledge that there is a non-surgical alternative for treating adhesions. Since then, my life has been much better.
How have things changed for you since you began therapy at Clear Passage?
I used to live my life on a daily basis thinking is today going to be the day I'm going to die? I really thought I didn't have any hope. But ever since Clear Passage I don't even think about it. There's no thought about if I'm going to live or die today — I know I'm going to live. I'm happier and much better off. I thought my life was over at a very early age and now I'm looking into old age. I have plans past tomorrow; I was living just for tomorrow before finding Clear Passage.
What is your therapy like?
When I come up to Clear Passage for what I call my maintenance program, I have adhesions that form on a monthly basis. Most people don't have adhesions as bad as I do, but since my adhesions are so bad it requires me to come up here on a monthly basis to get treated. The treatment I receive is always a team treatment it's not just me lying on the table. It's a team work with everyone that works here and it's my feedback and their feedback that saves my life every month. Also, they've given me tools to work with and take home with me — ways I can decrease the adhesions myself. They have given me advice and direction on what I need to do if I do feel an adhesion coming on when I'm at home. They've given me the tools and knowledge to overcome fear.
If you'd like a free consult, please take 20 minutes and fill out this form and we can determine if therapy would be a good fit for you.