Background
At Clear Passage®, we have always been cautious about keeping patients safe, and making claims about our results. After we opened our first fallopian tubes in 1989, we spent 30 years studying adhesions, refining treatment techniques, having biostatisticians calculate what techniques worked best, further refining, and then publishing our results.
In 2008, we turned our attention to clearing larger tubes – intestinal blockages. This page traces much of our history clearing small bowel obstructions from the beginning to the present.
Program and Results
We do not have privileges at your hospital. Our program is designed to clear blockages at our facilities and prevent recurrences. Our most current success rates for preventing recurring bowel obstructions and repeat bowel surgeries is shown below. This data has been verified in a peer-reviewed, controlled study co-authored by physicians from Harvard, Stanford, and Washington University medical schools.
Rounded to the nearest numbers (exact numbers and p-values further down this page) our most current results can be summarized:
We decrease recurring total bowel obstructions by 15 times the norm.

We decrease recurring partial bowel obstructions (hospitalization without surgery) by 2.5 times the norm.

We decrease repeat surgeries to the bowel by 3 times the norm.
Who Can Perform this Therapy?
Manual therapy to the bowel should be undertaken with caution. It should only be performed by therapists who are highly educated and knowledgeable treating the areas that contain the abdominal and reproductive organs. So many complex processes occur in the abdomen every day that treatment should be approached with caution, and a good understanding of the ramifications of applying pressures to various areas.
Elements of Our Bowel Obstruction Program
The years we have spent studying our techniques and results have helped us develop very clear elements for our programs, including
Cautions and contraindications to manual therapy in the abdomen;

Thorough Initial Evaluation and daily written reports for each patient;

Exclusive manual techniques found to be safe and effective treating intestines;

Oral and written patient education and home program designed to maximize long-term results.
Two educational goals for all patients include: 
Learning why and how adhesions form in the abdomen, and how to slow or prevent their formation, and

Understanding how to maintain and even improve upon gains we give them during their 20-hour therapy protocol.
The following paragraphs and illustrations trace our history of learning to clear intestinal obstructions and return patients to a much higher quality of life. They also give an in-depth understanding of the best scientific data we have gathered on treating bowel obstructions since 2008.
Following the 'scientific method' for investigating new modalities, we began by publishing some remarkable case studies, all of which can be read at our Published Studies page. These studies included a woman who managed to stay alive despite a bowel that was totally blocked. When she arrived for therapy, her only nutrition was by intravenous PICC line. After several hours of our therapy, her physician was able to remove her PICC line – because she could eat normally. This and other surprising results inspired us to investigate further, with more involved studies.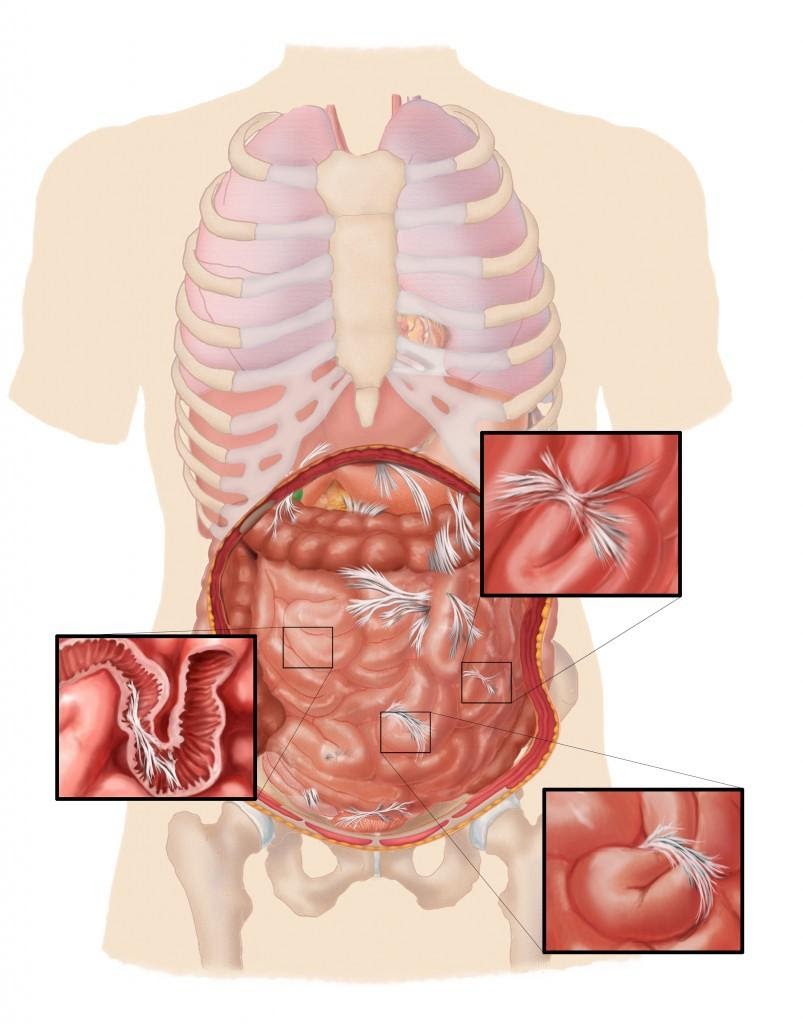 Due to the complex structure and functions of the bowel, measuring success for patients with recurring small bowel obstruction (SBO) presented opportunities and challenges. We found three major areas of concern that we could measure by comparing conditions before and after therapy:
Structure – Independent radiographic images taken before and after therapy

Repeat Events – Number of repeat obstructions before and after therapy

Quality of Life – Graded by patients, results tabulated by biostatisticians
If you'd like a free consult, please take 20 minutes and fill out this form and we can determine if therapy would be a good fit for you.