Bowel Obstruction Diet
If you recently had a bowel obstruction, you may be anxious about the foods you should and should not eat in order to keep future obstructions at bay. To keep from obstructing again, most patients must adopt a diet that contains low or minimal amounts of fiber.
The good news is that eating foods that will not cause obstructions need not mean sacrificing taste. The following sample menu consists entirely of great-tasting, bowel obstruction-friendly recipes.
Breakfast
Rice Flour Pancakes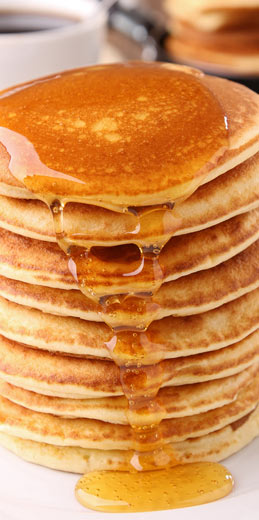 Ingredients1 cup rice flour
1 tbsp sugar
2 tsp baking powder
½ tsp salt
1 cup rice or soy milk
1 egg, lightly beaten
2 tsp olive oil or vegetable oil
1 cup maple syrup

Directions

Sift the rice flour, sugar, baking powder, and salt together in a bowl. Beat in the rice milk or soy milk until the mixture has a smooth consistency. Add the beaten egg and olive oil or vegetable oil and mix until just blended.

Heat a non-stick griddle to 375 degrees or until it is hot enough that drops of water splashed on the griddle bounce and sizzle. Lightly oil the pan. Ladle the pancake mixture onto the griddle to form 4-inch cakes.

Turn the cakes once the bottom has browned and bubbles appear on the top. Cook the cakes for an additional two minutes. Serve the pancakes with warmed maple syrup.

The recipe yields 12 pancakes and serves 4.
Lunch
Healthy New England Clam ChowderIngredients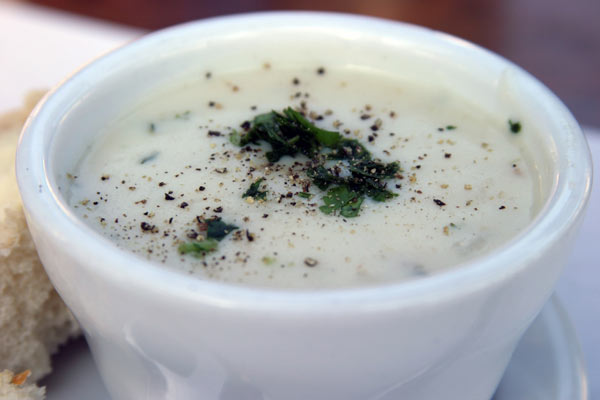 4 tbsp olive oil
½ cup flour
3 cups clam broth
2 cups rice milk
2-6.5 oz. cans chopped clams
¼ tsp white pepper
1 tbsp chopped parsley
1 tsp thyme
1 bay leaf
4 cups potatoes, 1″ cubes
Directions
In a large pot, add the flour to the olive oil. Blend to incorporate thoroughly. Add the clam broth and the rice milk and whisk the mixture until it is smooth.
Add the chopped clams, white pepper, parsley, thyme, and bay leaf to the soup. Bring the soup to a boil, cover, and reduce the heat to a simmer. Continue cooking the soup for 45 minutes.
After the soup has cooked for 45 minutes, add the diced potatoes and simmer for an additional 15 minutes, or until the potatoes are soft when pierced with a fork. Remove the soup from the heat and serve.
Recipe serves 6.
Dinner
Souffle Omelette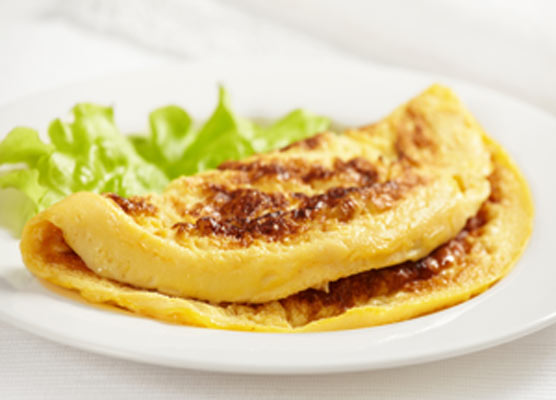 Ingredients
2 eggs, separated
1 tsp of water
Salt and pepper
¼ oz low-fat spread or butter
Grated low-fat cheese optional
Directions
Preheat a grill until moderately hot and gently heat an omelet pan.
Whisk the egg whites until they stand in soft peaks.
Whisk the egg yolks with the cold water until pale and creamy and season.
Fold in the egg whites. Melt the low-fat spread in the omelet pan, pour in the omelet mixture, and level the top.
Cook without moving until the bottom is set and golden, for about 2-3 minutes. Sprinkle with cheese, if using, and place under the grill for approximately ½ minute, until cheese begins to melt. Fold in half and slide onto a plate. Serve immediately.
Desert
Pink Grapefruit Sorbet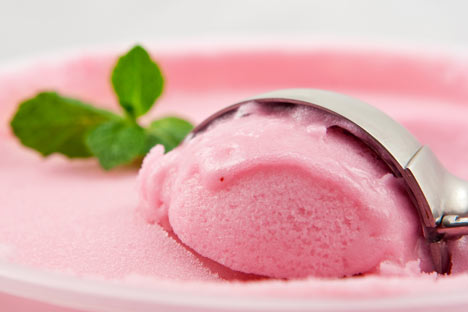 Ingredients1 ½ cups sugar
1 1 ̸4 cups water
1 tbs grated grapefruit zest
1 1 ̸4 cups freshly squeezed pink grapefruit juice
1 ̸4 cup lemon juice
1 egg white

Directions

Combine sugar, grapefruit zest, and water in a medium saucepan and bring to a boil. Remove from the heat when the sugar has dissolved. Add the pink grapefruit juice and lemon juice.

Transfer the sorbet mix to a storage container and refrigerate for six hours. Add lightly beaten egg white to the mixture and combine thoroughly.

Freeze the sorbet mixture in an ice cream maker according to the manufacturer's instructions. Place sorbet in a sealed container and place in the freezer for 2 hours before serving.

Recipe serves 6.
If you enjoyed these recipes, take a look at our Diet Guide for more tips on adjusting your diet to improve your digestive health.
If you or someone you know suffers from bowel obstruction, schedule a phone consultation with one of our therapists, at no cost, to learn about treating bowel obstruction non-surgically.
If you'd like a free consult, please take 20 minutes and fill out this form and we can determine if therapy would be a good fit for you.