A patient's mother discusses their family's experience at Clear Passage: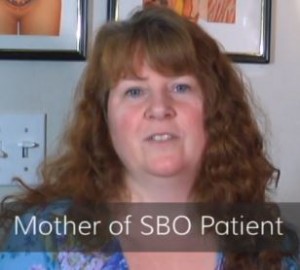 Transcript – A Mother's Journey to Recovery: Small Bowel Obstruction
"It was the first time anyone had asked me that in months. "How am I doing?" Right then my mind was made up. Clear Passage Physical Therapy was the place we needed to come. I knew we would be a family here and not just names in a chart, a list of injuries, diagnoses or problems. My son would not just be a boy run over by a bus who was difficult to deal with.
My son was nine years old on February 3, 2012 when the bus pulled in and did not see Jimmy.  He ran to be first on the bus. There was a light snow that morning that covered ice on the ground and Jimmy slid under the back tires of the bus. He had an open book pelvic fracture. It almost tore of his left leg and made a tear going from his upper thigh area, all the way around to the back. I thought for sure he would lose that leg and, through many miracles afterwards, he did not. He was in a medically induced coma for six days until they could do the pelvic surgery to put his pelvis in place with screws.
His initial physical therapy was at a children's hospital. For being a children's hospital, you would think it would have a certain level of compassion, which we did not have at all. Once we got home from the other physical therapists that weren't good fits and that didn't meet our needs, I began to search a wider range. Clear Passage Physical Therapy came up again. This time, there was a thing on small bowel obstruction (SBO). They do more than infertility. I called and talked to a lovely lady named Kandy. She was very encouraging and just a wealth of information. I had not talked to a professional in this realm like a mom before, and that was pretty amazing. This was the first time they did not just want to know his case number and inures but what kind of kid he was and what things he liked. That was really nice.
The changes in his abdomen after they worked on the scar where his colostomy was looked like a large belly button off to the side.  When we were done, it was flush with the rest of his belly. I wish I had taken before and after pictures. I had fully expected some other clinical things to happen but nothing so visually dramatic in five days. That was very encouraging to Jimmy. For a child, you can tell him all the wonderful things they can do and you go, "Yes, Yes, Yes." But when he could look down and see it himself, to see his scar not go inward but see the skin — he was amazed. He became a lot more compliant. He saw the good changes for his body.
He was also moving, swimming, walking, standing, and walking up stairs better. So, that was a big deal for him."
If you'd like a free consult, please take 20 minutes and fill out this form and we can determine if therapy would be a good fit for you.